Featured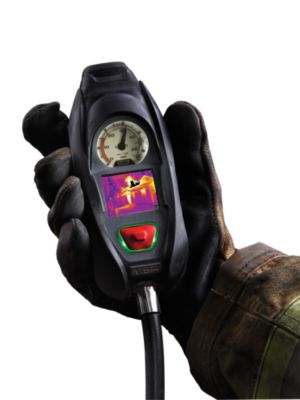 MSA G1 SCBA Integrated TIC
The MSA G1 SCBA with Integrated Thermal Imaging Camera provides EVERY firefighter the ability to see in dark and smoke filled environments, aiding in the speed and effectiveness of your operation from the initial 360, to working the fire, overhaul and rescue. This sight is provided through a Thermal Imaging Camera that is integrated into the G1 SCBA Control Module, eliminating the need to carry an additional piece of bulky equipment and the concern of an additional snag hazard. NFPA 1981 Approved – Now Shipping!

Air Cylinders
Choose from a complete line of air cylinders, including lightweight carbon, economical aluminum or affordable composite. Choose from eight different cylinders, each designed especially for MSA Air Masks. Available in high and low pressure with air supply durations of 30, 45 and 60 minutes. Optional custom logos available.
ClearCommand Communications System
This system enables rescue personnel to communicate over commercially available radios. Attach it to a full facemask (open mode) or put it inside a protective suit (covered mode).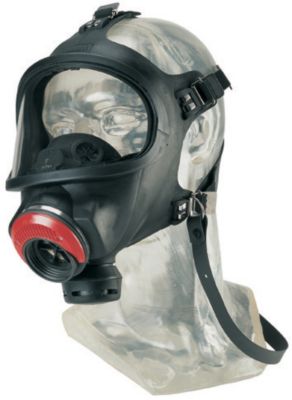 3S Positive Pressure Full-Face Masks
With more than five million units sold, the upgraded 3S Full-Facepiece Respirator offers safety, comfort and durability. The face blank is made of a softer rubber compound (and also yellow silicone in another option) and has a wide sealing frame and deeper chin stop for a snug, comfortable fit. The lens is made of impact-resistant polycarbonate (and silicate-coated glass and Triplex glass in other options) and offers a wide field of vision for excellent viewing. The harness allows for quick donning and removal and achieves a pressure-free fit in combination with a protective helmet. The inner mask allows for optimal air flow and eliminates lens fogging. The mask comes in more than 50 different versions, allowing users to find the perfect mask.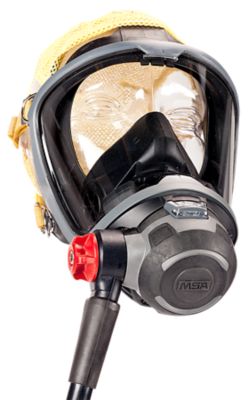 G1 Facepiece
The G1 Facepiece was designed without electronic components, to minimize weight, reduce your stress and fatigue and improve your overall performance level. This design also means that there are no electronic components on the outside of the facepiece that may result in snag and entanglement hazards. What's more, by eliminating costly electronic components, the price is reduced substantially, allowing personal-issue facepieces to be a cost effective measure. As an added bonus, the facepiece is equipped with cross-contamination prevention to reduce the spread of illness when facepieces are shared. But MSA didn't stop there. The MSA G1 SCBA is also equipped with a speaking diaphragm to increase speech clarity while off air. The new G1 Facepiece is not only lightweight and compact with overall low profile design, it's comfortable and built to last. Taking the preferred design features of the Ultra Elite Facepiece, including wide field of view and comfortable, robust seal geometry, we've taken the MSA G1 SCBA to the next level with an open port to provide low breathing resistance, both on and off air. The G1 Facepiece can help you to conserve energy for when you need it most.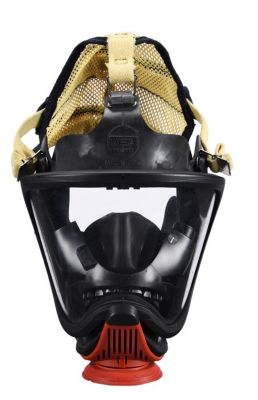 Ultra Elite® Positive Pressure Full-Face Masks
Combining state-of-the-art features with MSA's precision engineering, the Ultra Elite full-face mask is our top model in this range. The ergonomic design makes this a comfortable unit, while the 5-point harness makes it easy to put it on or take it off. The distortion-free coated lens provides a wide field of vision, while the unique airflow prevents lens misting. The face blank has a single-sealing flange and comes in rubber or silicone, while the speech diaphragm makes communication easy to discern. The model has more than 40 different versions, making it the perfect mask for many different applications.
MSA A2 Software
MSA A2 Software offers the ability to customize your SCBA to meet your SOP, analyze use data, as well as provides a simple, reliable method to enhance firefighter safety and accountability on the fire scene by monitoring firefighters' status remotely from incident command.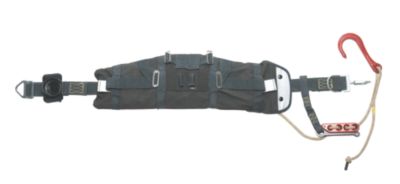 FireHawk® Rescue Belt II
Rappel to safety with this innovative, quick-release device for emergency egress. Ergonomically contoured, it easily stores rescue rope, hook or carabiner and descender. Ideal for extreme conditions, it features a web management system that also integrates a regulator holder. One belt fits all (up to 310 pounds, including equipment).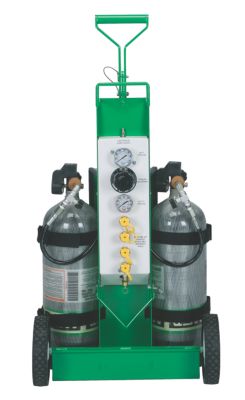 Compressed Airline Accessories
MSA compressed airline accessories help ensure proper air supply. Our pressure regulator helps maintain desired operating pressure, while our manifolds supply single source air to up to four respirators. MSA compressed airline accessories are designed especially for use with MSA airline systems.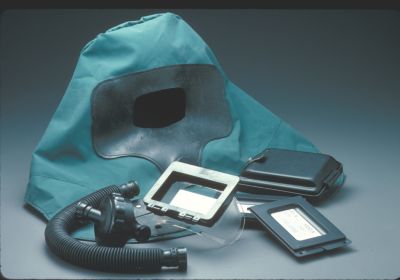 Abrasi-Blast™ Supplied Air Respirator
This supplied-air respirator provides respiratory and upper body protection for personnel engaged in abrasive blasting. Includes hood, face piece with lens housing, breathing tube, lens cartridge, flow-control device, air-supply hose, and support belts. Ideal for a range of applications including blasting operations.
Constant Flow Airline Accessories
These accessories help ensure proper air quality and deliverability when used with MSA constant flow airline systems. Filters remove 99% (minimum) of >0.3 micron particulate for up to 1000 hours of use. Air supply hoses deliver respirable air from 8 to 5 feet in temperatures from -25ºF to 212ºF (depending on type). And cylinder cascade systems deliver single-source air to one or more workers.
Quick-Disconnects and Adapters
These assemblies connect air supply hoses to the manifold and air source. Locking-type quick disconnects are available to interconnect lengths of air supply hose. With locking quick-disconnects, use up to 12 sections of hose to make up the maximum length.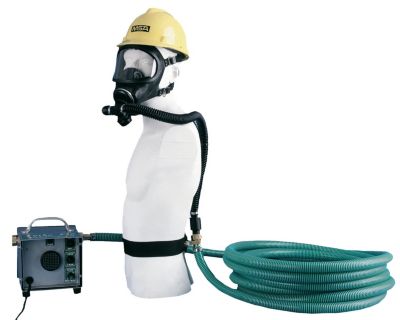 Turbo-Flo
This fresh air hose breathing apparatus (FABA) is designed for use wherever conditions permit drawing air from a hazard-free atmosphere. Because the air supply is fresh, there are no time restrictions on use. Can be used as an assisted (with Turbo-Flo blower) or unassisted fresh air breathing apparatus.
Turbo-Flo Accessories
From a full face mask to carrying case to waist belt with connector, these accessories make the Turbo-Flo breathing apparatus more flexible and comfortable to use.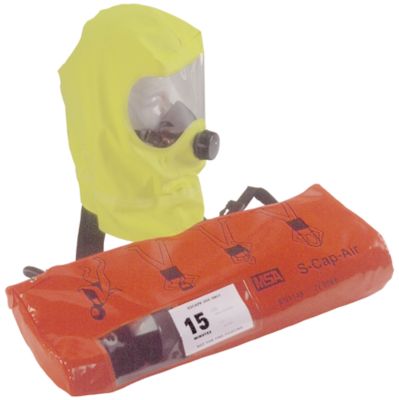 S-Cap-Air
This compressed-air emergency escape device provides 15 minutes of life-saving respiratory protection in extremely toxic or oxygen-deficient environments. Featuring fast, automatic activation, fluorescent protective carrying bag, and three liters of 200 bar compressed air, this device is ideal for use on ships, off-shore oil rigs, refineries, water utilities and confined spaces.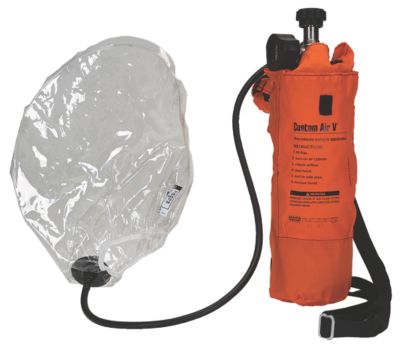 Custom Air V® Escape Respirator
Escape toxic gasses, vapors or oxygen deficiency with this quick-use, hooded emergency respirator. Features a high flow rate of 72 liters per minute (lpm) and a continuous flow of air from the compressed air cylinder. The flexible urethane hood reduces fogging and fits over eyeglasses and facial hair. Lightweight and easy to carry, the unit also mounts on a wall, as needed.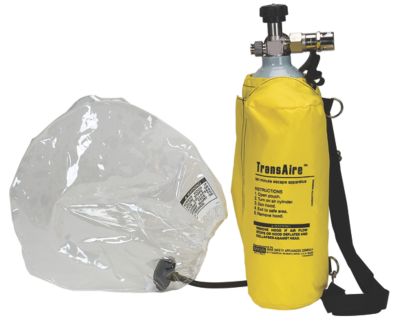 TransAire® 5 and TransAire® 10 Escape Respirator
These self-contained devices help personnel escape dangerous and deadly atmospheres, including those with high concentrations of toxic gases or vapors or oxygen deficiency. Low profile, lightweight, and easy to carry, these escape respirators feature one-control operation for a swift exit.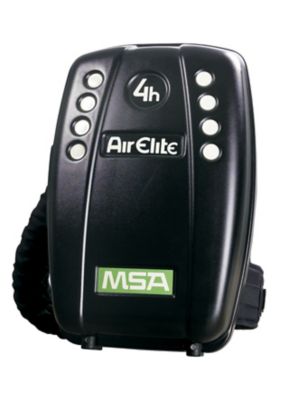 AirElite 4h
This is the world's first KO2-based breathing apparatus, providing up to four hours of continued used. This closed-circuit breathing apparatus features an integrated control monitor and is ideal for those working in tunnels, large storage facilities and high-rise buildings. With its low breathing resistance, inhalation temp and dry breathing air, users enjoy more comfortable breathing.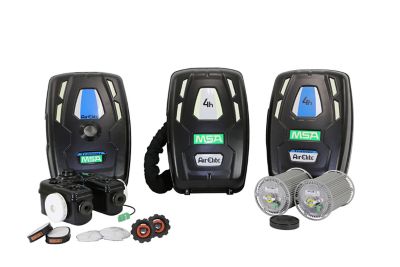 AirElite 4h - Closed Circuit Breathing Apparatus
The AirElite 4h with its slim construction and ergonomic design provides maximum comfort, with weight positioned on the waist and no shoulder width protrusion. The lateral breathing tubes are snug to the body for easy donning and doffing even in confined spaces without mask removal. It offers excellent breathing comfort via low breathing resistance, low inhalation temperature and dry breathing air. It has maintenance free standby storage for up to 2 years in full readiness mode – up to 8 years if canisters are in factory sealed condition. The G1 AirElite full face mask sets a new state-of-the-art in comfort and safety. It is a symbiosis of sophisticated materials and modern design principles.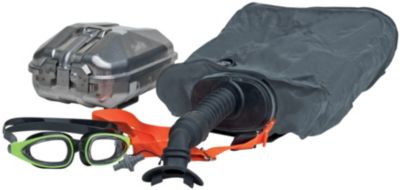 SavOx
This chest-worn protective escape device provides oxygen on demand wherever toxic gases, particles or oxygen deficiency can be imminently present. Ready-to-use, it's small in size and low in weight, making it easy to don, use and carry. Features a double heat-exchanger system to reduce inhalation air temperature to a comfortable level. The TR device allows quick and economic training of donning and use by simulating the weight and properties of real units