MSA Connected Firefighter, Driven by
LUNAR
Enhanced vision. Unmatched situational awareness. Total accountability.
What is Connected Firefighter?
Firefighters want to be connected – to each other and to their officers on- and off-site. Connected Firefighter is a platform of products that keeps the team connected on- and off-scene as well as on and off air. Together, the products create visibility, increase efficiency, promote situational awareness, and enable accountability for everyone on-scene, all while creating a networking of safety.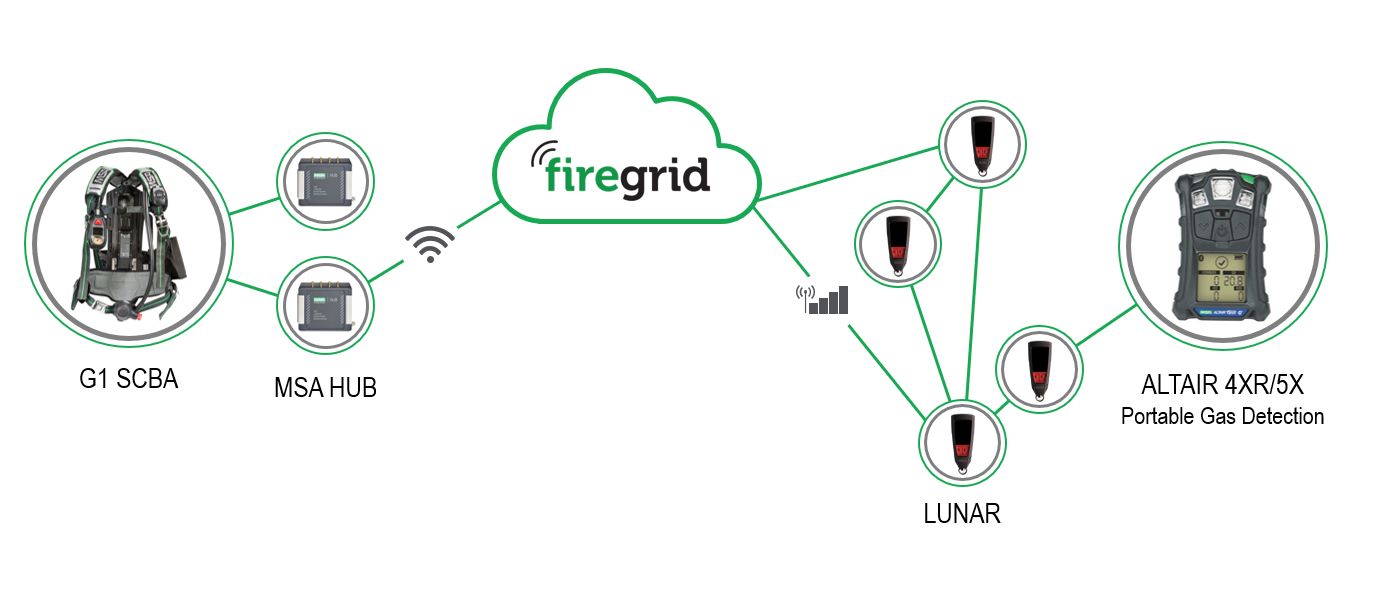 LUNAR Overview
LUNAR is a wireless, handheld search and rescue device that includes firefighter-to-firefighter ranging, edge detection enhanced thermal imaging, and cloud connectivity to FireGrid. As the heartbeat of the MSA Connected Firefighter Platform, it offers accountability and connectivity for SCBA users that are not equipped with telemetry. It can also be utilized independently of an SCBA - providing accountability to all firefighters on-scene.
As part of the MSA Connected Firefighter Platform, LUNAR provides:
Personal Thermal Imaging
Thermal imaging on every firefighter improves situational awareness and more confident decision-making on the fireground. Edge detection enhanced thermal imaging highlights areas of interest, including means of egress over a white-hot thermal overlay.
Firefighter-to-Firefighter Ranging
Once a LUNAR goes into alarm, whether it is motion, manual, or hardware, every LUNAR in the network is notified. Firefighter-to-firefighter ranging combines direction and distance with thermal imaging to help find separated teammates.
CELLULAR CONNECTIVITY
A direct cloud connection enables an always-connected experience for individuals on-scene and remote. LUNAR's integrated LTE-M allows for connection to FireGrid - an easily accessible cloud-based software providing data insights all in one place.
SCBA Connectivity
With embedded Bluetooth technology, LUNAR pairs with the G1 SCBA to offer a seamless stream of information. View estimated air pressure, time remaining, and battery life from the LUNAR screen.
Virtual Panel
TECHNOLOGY & SAFETY IN THE FIRE SERVICE: THE IMPACT OF INNOVATION ON MODERN FIREFIGHTING
Firefighting has become more challenging than ever before. Being safely equipped – and with the latest technological advancements – can make all the difference in the world.
On September 17, firefighters and industry experts came together through a virtual panel to understand what role technology currently plays in the fire service, what gaps exist, and how manufacturers can continuously improve the choices available to firefighters. The panelists included Kirk McKinzie, Josh Burchick, Bobby Halton, and Jason Traynor from MSA.
If you were unable to attend the panel, it is now available on-demand for your viewing!
Watch On-Demand
Learn more about Connected Firefighter on THE SCENE
Fighting a fire will never be the same
Get the Latest on LUNAR
To receive the latest information on LUNAR and the Connected Firefighter Platform, complete the form below.