Featured
IR400 Point IR Gas Detector
The IR400 Infrared (IR) Point Detector is a hydrocarbon gas detector that continuously monitors combustible gases and vapors within the lower explosive limit (LEL) and provides alarm indication. It features an industry-leading response time of ≤ 3 seconds, even with a splash guard installed. All electronics are contained within an explosion-proof housing so that the IR400's detector information can be processed locally. Configurations with analog output, Modbus and HART are also available.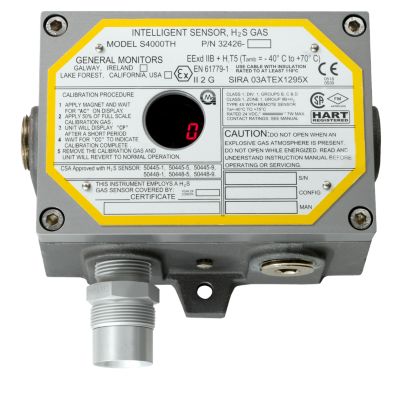 S4000TH H2S Gas Detector
The S4000TH Intelligent Gas Sensor is a microprocessor-based transmitter designed for use with General Monitors' thin film metal oxide semiconductor (TFMOS) sensors to detect H2S gas. The unit features one person calibration and can virtually self-calibrate by simply activating a magnetic switch and applying gas. It detects hydrogen sulfide in 0-20 ppm, 0-50 ppm or 0-100 parts per million (ppm) levels over a wide temperature range.